UNDERSTANDING "THE LINK"
When animals are being hurt, crimes against people are usually not far behind.
SEEING THE SIGNS
Know the "clues" that could lead to other animal-crime related convictions
INVEST IN YOUR CAREER
Animal victims can't testify, but you can still gather the right evidence to win your case.
ANIMAL CARE AND CONTROL FOR THE LAW ENFORCEMENT OFFICER
When you entered the law enforcement profession, you probably expected to be doing traffic stops, dealing with domestic disturbances, and investigating crimes… crimes against humans. 
But you probably didn't anticipate having to deal with animals: the family dog who's not happy you're in her home or yard, the 40 cats you encounter during an elder safety visit, or the number of times you see a kid, a dog, and a situation that just doesn't look right. 
It's assumed that animals are within animal welfare agencies and humane society's purview – "they'll enforce everything involving the pets." 
Unfortunately, it is not as clear-cut as expected in real life. As a first responder, you're the first on the scene who might pick up on the clues that could protect a child from further abuse, a woman from experiencing more IPV, an elderly person from living through more neglect or see the tools and implements that are clear indicators of an animal fighting ring – which inevitably leads to so many other crimes. 
From officer involved shootings of dogs, to recognizing a suspect is also a dogfighter, to noticing that both children and animals are being neglected in a home, sworn law enforcement officers see clues every day: and if animals are at risk or being harmed, usually humans are too. 
The whole course is about 20 hours long and there is a 1-year time frame for completion.
This course is not designed for the animal control officer (if you are an animal control officer, click here for ACO I or ACO II). This course is a guide for law enforcement in situations when they have to interact with animals, how to be more observant and recognize clues that will let you know to investigate further or know it's time to bring in outside experts in your community.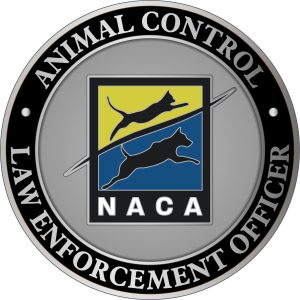 This online certification course is pre-approved for 20 CEU credits by The National Animal Care & Control Association (NACA). NACA is the leading professional association committed to growing the level of professionalism in the field on Animal Care and Control.
With a successful completion of the course, students will receive a Certificate of Completion which can be submitted to your own agency, POST or other governing body for the purposes of CEUs as well as the NACA Animal Control Law Enforcement Officer Challenge Coin. This course also may address local or state Dog Encounters Training
The Course Price is $447 per student
NACA Individual Member Discount: $100
Group Discount: buy 3-9 at $357.60 each
Buy 10 or more at $199.50 each