As some of you may have seen over the past few weeks, the official partnership between NACA and Code 3 Associates will be ending September 2020.  Many questions and concerns have been expressed by the students and agencies we both serve, and we hope to provide a positive direction as we move forward into new and exciting endeavors.  Although the official partnership is dissolving, both NACA and Code 3 are dedicated to providing exceptional training nationwide.
Patrons can look forward to refreshed training programs, new learning opportunities through online training, and new perspectives from agency independent programs. NACA and Code 3 mutually agree to continue our efforts to network our resources in the future when applicable to provide a support system to the Animal Control Officers and Animal Welfare Professionals that continue to expand their skills and knowledge.
We look forward to your continued participation in both NACA and Code 3 programs, and we look forward to bringing you new training opportunities in the near future!
The below dates will be Code 3 & NACA's final NACHO classes! All attendees will receive a NACA / Code 3 NACHO Commemorative Coin!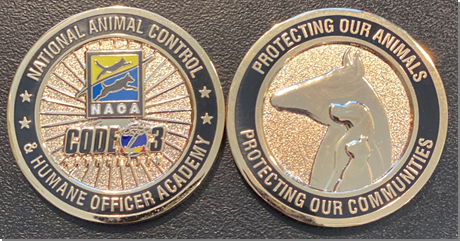 Dates and Locations
To register for a class, review the schedule below or from our event calendar and click on the appropriate registration link.